24 Apr 2020
carehome.co.uk: England is seeing rise in people requesting care but fewer receiving it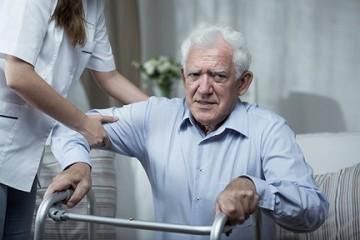 Taken originally from carehome.co.uk
An analysis from The King's Fund found that since 2015/16, the number of working age adults in England asking for some form of care has risen by four per cent to over 23,000 people. The number of elderly has also increased, leading to over 1.8m requests for adult social care, this is up two per cent since 2015/16.
At the same time, nearly 13,000 less people are receiving support and local authority spending is £700m less than it was in 2010/11.
The report 'Social care 360' also reveals that the cost of care is rising, the number of care home beds for over 75s is falling and there is a growing care workforce crisis.
Simon Bottery, senior fellow at The King's Fund and lead author of the report, said: "This report shows that increasing need among working-age adults, an increasing older population and high levels of existing unmet need are combining to put immense pressure on our care and support system, now and for the future."
Yet he points out "there is little evidence that the government understands or is willing to act on these trends despite the impact on older and disabled people, their families and carers."
The government announced it would publish a social care green paper nearly two years ago setting out funding reforms for the social care system. Since then there has been delay after delay and there is still no definitive date for its publication.
'We desperately need' fundamental reform
This green paper "is an opportunity to set out the fundamental reform we desperately need," according to Mr Bottery, who added: "But while the green paper is delayed, the government must focus on what it can do to support people now. Putting more money into the system in this autumn's Spending Review would help people to get the help they need while longer-term reform takes effect.
The analysis by the think tank reveals that 18 per cent of working-age people now report a disability, up from 15 per cent in 2010/11. The proportion of disabled working age adults reporting mental health conditions has also risen from 24 per cent to 36 per cent in the last five years.
Twenty-two per cent of older people say they need support and care but don't receive it. The report also found the amount that councils pay for care has increased to £615 per week, a rise of 6.6 per cent since 2015/16.
Fiona Carragher, chief policy and research officer at Alzheimer's Society, called it "absolutely staggering that the number of people receiving adult social care support is in such decline, especially considering every day more and more people are being diagnosed with dementia.
"The system of support for people with dementia is unfair, unsustainable and needs an urgent overhaul. The green paper has been delayed five times in two years, and while the government dithers over a long term solution , we need urgent investment in high quality care through a Dementia Fund."
How many more warnings does the government need before it acts?
Genevieve Edwards, director of external affairs at the MS Society, echoed the urgent call for more government investment, saying: "How many more of these warnings will it take before the Government is forced to act on this crisis? For more than two years we've been waiting to see proposals on how our failing social care system will be fixed.
"And every day that goes by without a funding solution, one in three people with MS continue to struggle without basic support to help them manage. MS, like many chronic conditions, can be painful and often exhausting, and we absolutely echo the King's Fund's call for investment in social care in the Spending Review. It's the only way to bring an end to the misery this crisis has created."
In addition, the report revealed that the number of nursing and residential care beds available for people aged over 75 has fallen from 11.3 per 1,000 to 10.1 per 1,000 since 2012.
There is a growing staffing crisis in social care, with around eight per cent of jobs vacant at any one time. There are now 1.6 million jobs in social care, up by 275,000 since 2009. But 390,000 staff leave their jobs each year.
However despite the huge challenges facing social care, those people able to access care and support services report high levels of satisfaction. In 2017/18, 90 per cent of social care users said they were either extremely or quite satisfied with their care.
Read the original article: https://www.carehome.co.uk/news/article.cfm/id/1609028/england-rise-people-requesting-care-fewer-receiving