28 Feb 2020
Highlighting the importance of care pathways within the community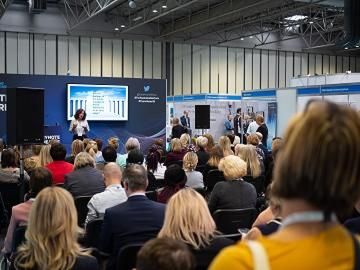 The Dementia, Care and Nursing Home Expo, Home Care Expo and European Neuro Convention are just around the corner. These free-to-attend CPD accredited events, held at the NEC Birmingham on the 17th and 18th March are dedicated to developing a sustainable social care model whilst highlighting the importance of care pathways within a clinical environment.
The Dementia, Care and Nursing Home Expo, Home Care Expo, and European Neuro Convention are ideal destinations for social care and neuro professionals to discover how to further their professional development. They host a world-class, CPD accredited seminar and masterclass programme - educating attendees on the latest information and initiatives that will enable them to provide an improved environment for their service users. Delegates will be able to sit in on seminars delivered by leading industry experts such as;
Director for Adult Social Care at the Department of Health & Social Care - Rosamond Roughton
Internationally-renowned Professor June Andrews OBE
CEO of the United Kingdom Homecare Association - Dr Jane Townson
Chief Inspector of Adult Social Care at the CQC - Kate Terroni
Professor Wagih El Masri from Keele University
Dr Daniel Fulton and Dr Hannah Botfield from the British Neuroscience Association and the University of Birmingham.
What's more, there are hundreds of businesses from throughout the social care and neuro industry present at the events over the two days. They will be exhibiting the latest products and services that are revolutionising the way that social care and healthcare professionals are able to complete their work. Businesses such as Dechoker, The Stair Climbing Company, Circle Health, Headway and interactiveMe provide innovative everyday solutions.
Marketing Director of the 3 expos Ashley Gilfoy, commented: "The vital work of social care professionals and neurology professionals can sometimes go unnoticed, but with this March we are celebrating their hard work and dedication. Events such as these aim to equip healthcare professionals with the latest knowledge and innovations to improve outcomes and environments for services users and lead it improved sustainability in healthcare."
A ticket to one show grants you access to all 3 shows - Dementia, Care and Nursing Home Expo, the Home Care Expo and the European Neuro Convention. However, that's not all! Your ticket will grant you access to all shows at MediWeek - the UK's largest healthcare event; including the Care Tech Live, Naidex, Smart Home Expo, the Medical Imaging Convention, the Oncology Convention and the AI & Machine Learning Convention.
Tickets for the shows are free, so register for yours now!