31 Jul 2019
Home care provider Home Instead given 50th ''outstanding'' rating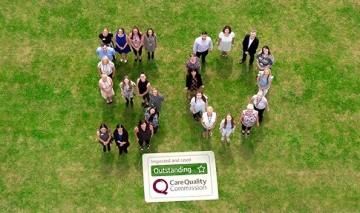 Original article taken from homecare.co.uk
Author: Sue Learner
The 50th service to be given this rating is Home Instead Senior Care Wirral, which was praised for "really making a difference to people's lives" and for its "excellent person-centred care".
The Wirral agency currently has 180 people that it supports with personal care and companionship. It is run by husband and wife duo Mike and Catharine Chalton. Those receiving care were described as being at the centre of developing their care plans which gave them a real independence. Continuous improvement and training of its care workers was also highlighted.
Kate Terroni, chief inspector of adult social care at the Care Quality Commission, praised Home Instead on "the fantastic achievement of having 50 offices rated outstanding" and added: "Our inspections have consistently shown that people who use their services receive exceptional personalised care from a well led team."
Home Instead has been operating in the UK since 2005 and currently employs over 13,000 people, offering care and companionship services to over 14,000 people.
Martin Jones, chief executive of Home Instead Senior Care said: "To reach fifty CQC outstanding ratings from the CQC truly is testament to the fantastic work that is carried out by our amazing caregivers and teams in the Home Instead network.
"Each and every day our caregivers are touching the lives of older people, helping them to live well at home for longer and helping in our mission to help change the face of ageing in the UK."
A full report of the inspection of the Wirral agency has been published on the CQC website: http://www.cqc.org.uk/location/1-836247288