26 Nov 2019
Home care provider's end of life training programme gets royal approval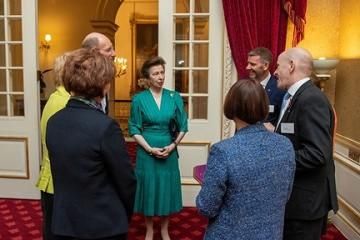 The Princess Royal Training Awards, now in their fourth year, celebrate exceptional training and development programmes across the country.
Home Instead Senior Care, a national franchise with more than 200 offices, is one of only 44 organisations to receive the award for its End of Life training. It's the second time the company has picked up the award for its training as in 2016 it was recognised for the expert dementia training it offers.
The award for end of life training was given to chief executive Martin Jones, head of people, Karen Dakin and learning and development partner, Tim Howell.
Mr Jones said: "It was an honour to attend St James's Palace and to meet with HRH Princess Anne to tell her more about our training and the impact it has on the lives of our clients.
"The award is a fantastic accolade, showing our dedication to providing the highest level of training to equip our caregivers with the skills needed to help a person during the emotional end stage of their life. To achieve this award alongside such a small number of other global businesses really is testament to the quality of training we're passionate about delivering."
The specialist training was developed to give its 9,000 caregivers the personal skills and knowledge to deliver the very best quality care to people during what can be a very difficult and emotional time. It also equips the caregivers to cope with the practical and emotional demands of delivering end of life care.
Learning and development partner, Tim Howell added: "We know that an estimated 60 per cent people wish to die at home where they feel most comfortable. By supporting our caregivers through training, our teams are able to make that wish a reality for people.
"Home Instead is passionate about delivering the very best training right across its network of offices which ultimately means we can help deliver the very best care possible to older people at home."
Commenting on this year's recipients and ceremony, Chris Jones, chief executive of the City and Guilds Group, said: "The Princess Royal Training Awards are a highlight of the year, as we come together to celebrate the outstanding work of businesses around the country who put learning and development firmly at the top of their agenda. The remarkable employers we recognised demonstrate the power that comes from investing in people and training as a vehicle to strengthen organisations and open up opportunities."
Thanks to our partners homecare.co.uk for providing this article. You can read the original here.
Martin Jones, Chief Executive of Home Instead Senior Care will be hosting a keynote seminar at the 2020 Home Care Expo discussing the care workforce of 2025 – what will it look like and how will we get there?