04 Dec 2019
Inspiring a new era of domiciliary care #homecareday19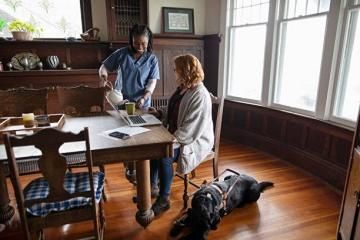 More people today are missing out on the vital care and support they both deserve and need. In 2018, an estimated 1.4 million people around the UK were living with unmet care needs, a staggering increase of 20% in just two years. Not only this, in an analysis carried out by Age UK, delayed hospital discharges due to a lack of social care cost the NHS over £500 a minute.
This is clearly unsustainable for the social care industry and those who work tirelessly within it. Service users throughout the industry deserve the vital care and support required to meet their personal needs. One way this can be achieved is through domiciliary care in their own home. Personal home care ensures that the service user receives the correct care in a comfortable setting - whilst also taking strain off of already stretched social care services in devoted homes and in the NHS.
The role of domiciliary care needs to be promoted in the social care industry as an effective alternative to a care, residential or nursing home setting. Events such as the Home Care Expo are created to do just that. To advocate home care as a genuine, and in some cases, a better alternative to receiving care and support in a care, residential or nursing home setting. The Home Care Expo achieves this by hosting a highly effective seminar programme with industry experts such as Dr. Jane Townson, RT Hon Prof Paul Burstow, and Dr. Malte Gerhold talking on issues throughout the care industry including: trends in homecare and how innovative and emerging technologies are impacting the delivery of care.
Such is the importance of the Home Care Expo to the wider industry, the CQC are bringing their Inspector Hub to the event. The CQC Inspector Hub allows home care business owners and senior managers to ask inspectors any queries ranging from beginning the registration process to how to drive continual improvement. The Hub will be full of resources for visitors to take away and share with colleagues. Book your consultation at the Inspector Hub by following this link.
Celebrating excellence in the home care sector, the Home Care Expo has joined forces with the Home Care Awards hosted at the expo on the 17th and 18th March 2020 at the NEC, Birmingham. The awards celebrate excellence and innovation in the business of home care, seeking innovative solutions from home care providers and praising outstanding work of care teams raising industry standards.
Service users throughout the social care industry deserve to receive person-centred care to meet their needs to enable them to live more independently at home and in their communities. Come and join us at the Home Care Expo on the 17th and 18th March at the NEC Birmingham and help inspire a new era of domiciliary care.