26 Feb 2020
Real care workers shining a spotlight on a career in care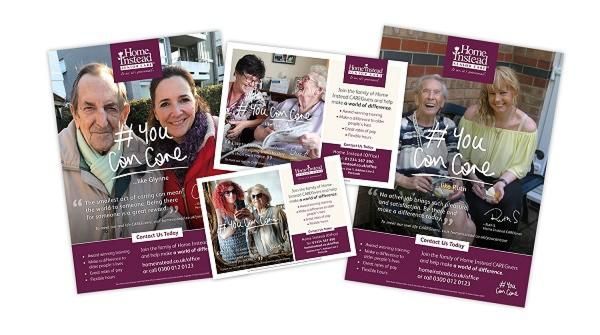 A home care company has launched a campaign showcasing its workers as the 'real faces of care' to drive new people into the sector.
Four caregivers from Home Instead Senior Care won a nationwide photo competition depicting 'real moments of care' with their elderly clients. It was part of the home care company's successful 'You Can Care' recruitment campaign to urge more people to consider working in care.
Photographs of Julia Meszaros from Bedford, Ruth Smith from Cleveland, Sue Binks from Stourbridge and Glynne Morley from Wimbledon and their clients will feature in national marketing materials and on social media to showcase the rewarding role of working in care.
It comes as we see a continued demand for new care workers with The Department of Health and Social Care predicting that an additional 650,000 workers will be needed in the sector by 2035.
Nationally, Home Instead Senior Care is recruiting 10,000 caregivers in 2020 and currently has more than 1,000 live vacancies UK wide.
Home Instead Senior Care CEO, Martin Jones said: "We're so proud to see our caregivers featuring directly in our national awareness campaign this year because ultimately they are the people who can show the real side of caring. We hope that by telling these real caring stories through real faces, we'll appeal to kind-hearted individuals nationwide to show them that they too can care for an older person."
One of the faces of care, Sue Binks has worked at Home Instead Senior Care Stourbridge, Hagley and Halesowen for more than five years now. The former catering assistant said: "I love being able to make my clients feel special, listening to their stories of their life and family and helping them to continue to remain as independent as possible in their own home.
"The job is very rewarding, it can fit around family routine, is diverse, flexible and great fun. There is also excellent support and training given," she said.
Sue added: "I'm proud to be one of the caregivers chosen to champion working in care and hope we can help influence how people feel about a career in care."
Martin Jones will be speaking at the Home Care Expo at 11.45am on Wednesday 18th March on the topic: "Fast Forward to the Care Workforce of 2025 – what will it look like and how will we get there?"