30 Jun 2021
Transform - A decade of digital transformation in home care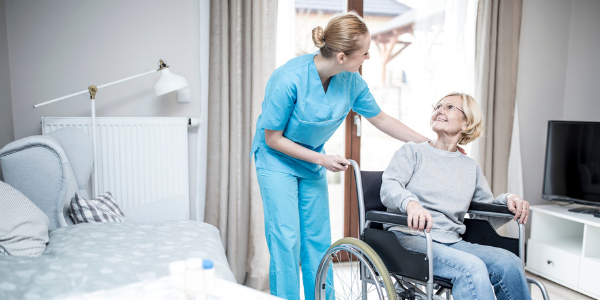 If you were to take yourself back to 2010, how different do you think the care sector might look today?
2010 was the year the very first iPad became available, selling 300,000 units on day one. "App" was voted 'Word of the Year' by the American Dialect Society and Microsoft launched its cloud computing platform, Azure. All pieces of tech that are now cornerstones of everyday life, including within the care sector.
Here at Unique IQ, we have been taking a look back over the last decade in home care. We wanted to understand the impact that technology has had on day-to-day care delivery.
For this new piece of research, called 'Transform', we analysed some 40 million anonymised records from our care management software. We studied visit quantities and durations, and client and carer numbers, alongside usage of our different technology features – such as our mobile app, eMAR and digital forms.
We found some interesting initial trends in how care services are operating. For example, the care workload has increased, with care workers now looking after 14% more people than they did in 2016. But the pace of growth is unequal – client numbers have increased by 26%, while carer numbers have only increased by 20%. This is a known workforce issue of course, and one where technology could really help. As Professor Martin Green of Care England said recently, "as a sector, we have to give care staff the gift of time, and technology is the cornerstone to providing this greater freedom".
We also observed diversification in visit patterns and care services. There are far more instances of longer visits now, those lasting more than 12 and 24 hours, as care types such as live-in care become more widespread. Meanwhile, the 15 minute visit, while still present, accounted for less than 1% of all visits.
Our early adopters aside, we found a gradual shift towards technology, nudged along by new guidance from the Care Quality Commission. Uptake was slow for most of the decade, not really picking up any pace until halfway through 2019.
It was around this time that we saw the number of tasks and medications being processed by our mobile app double, continuing on an exponential growth curve ever since (digital tasks are the equivalent of the paper activity log). As of March 2021, we now process 42x more medications and 148x more digital tasks than we did two years ago (with our own and our clients' growth accounted for).
This spike in digitisation aligned with the CQC's first set of guidance on using technology in care. In July 2019, the regulator shared a set of case studies it had observed during inspections of care services as examples of innovation, with the aim of raising awareness of the potential of technology for driving up care standards and encouraging services to improve.
Then the pandemic happened. And what was startling was just how much the COVID pandemic accelerated the pace of digital transformation within the home care sector. We know this anecdotally of course; nearly all of us have shifted to more digital ways of working and the caretech space in particular has been awash with new projects.
But our data showed the jump to digital tools in real terms.
Between Q1 and Q2 2020, we saw a 285% increase in the number of digital tasks being used by our customer base. What we saw happening was care organisations relying on tasks to manage infection control and client and carer safety. In this state of emergency, care providers created mandatory 'to dos' and reminders within their carers' mobile apps for hand washing, symptom checking and sanitisation.
Then as things started to settle a little between Q3 and Q4, we saw a 115% increase in the number of digital forms being created. Domiciliary care providers were now beginning to reshape their processes based on what they had learnt and experienced during the first lockdown. Care plans, risk assessments and induction documents were all being digitised, finally moving away from the paper binder in a client's home, to a fully electronic care planning system.
Now we've observed that our customers are more comfortable with technology than they have ever been, and are hungry for what's next.
For us, that's a data driven, connected and collaborative home care sector.
We want information about people receiving care to be connected, not siloed, to give a bigger picture of what they need to live a fulfilling life. For software providers to work in collaboration, not confrontation, aligning their systems with the shared purpose of supporting the delivery of outstanding home care.
Thankfully, we are far from alone in this. NHSX has just released its draft data strategy, 'Data saves lives: reshaping health and social care with data'. It is the tipping point for bringing together all of the disparate pockets of innovation that have been happening all over the care sector and the NHS over the last few years.
The strategy's main thrusts are:
Using data to innovate within the entire health and social care system
Making data sharing the norm
Building the right technical, legal and regulatory foundations to make all this happen
At last, it feels like we might be on the path to digital transformation in care, system-wide. Where data and digital can start to make a difference to the lives of people receiving care, wherever they are, and whoever they receive care from.
So our next gen software is all about interoperability and insight. Giving care providers access to meaningful intelligence about the people they care for, wherever that data comes from. Making care management systems truly person-centred will be the marker of the next decade – and where technology has the true power to transform.
To download our full research report into how technology has shaped and supported care delivery over the last decade, go to www.uniqueiq.co.uk/transform.
By David Lynes, CEO & Founder, Unique IQ