01 Sep 2021
Widening the Care Circle and Recording Homecare Observations with Accuracy and Ease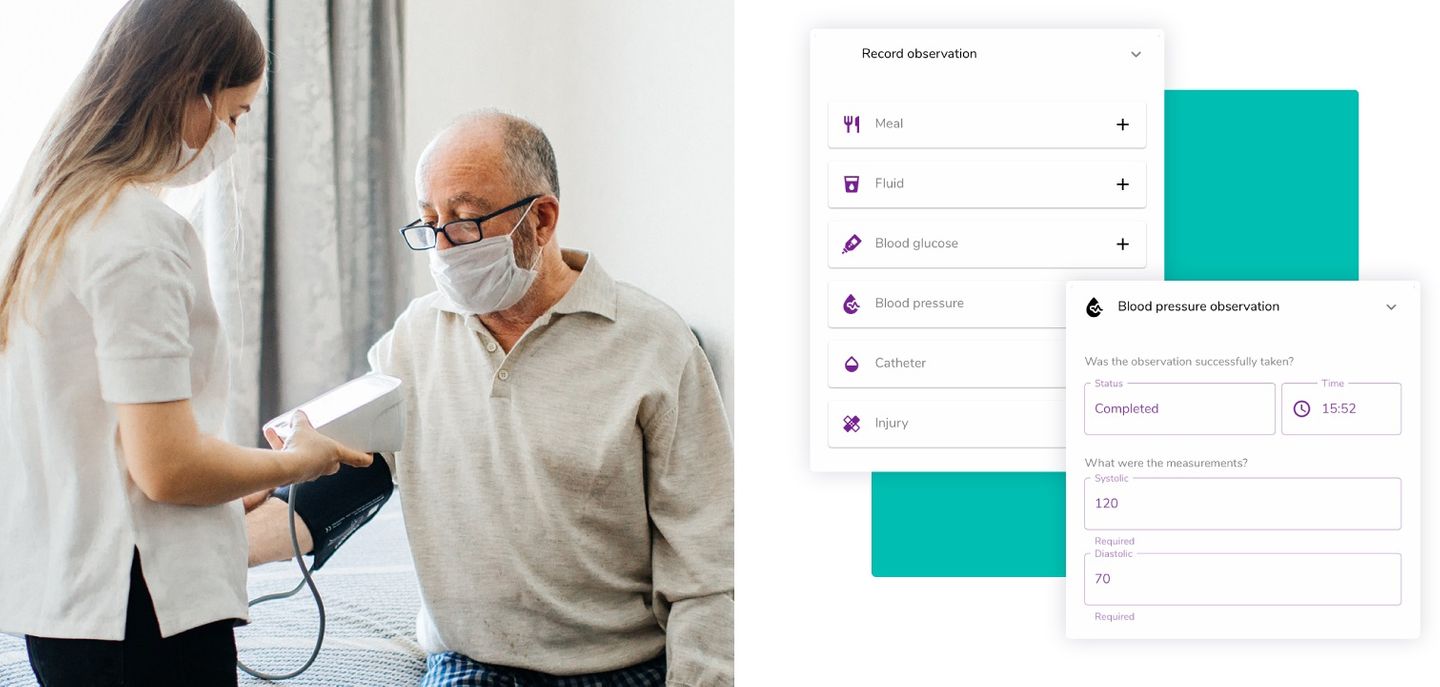 There are over 10,000 homecare providers in the UK, with c.814,000 people receiving domiciliary care in England alone. And, with the Covid-19 pandemic making it harder for loved ones to stay in touch with those receiving care, it's never been more important for all the stakeholders in the 'Care Circle' to be more connected.
Observations recorded by domiciliary carers during care visits now have the potential to enable all stakeholders involved in looking after someone receiving care to provide high quality person-centred care. CareLineLive's improved Care Circle portal will allow community health workers and emergency services access to key service user profile data and also day to day care records including observations.
Recording Observations on Physical and Mental Welfare
Observations have always been incredibly important in the care sector. It's vital that carers, families and clients themselves are aware of any medical problems or issues, whether they're sudden or ongoing. However, this has been traditionally hard to keep a record of and keep all parties in the loop, in real-time.
CareLineLive has now made it easier for carers to log observations on their clients' physical and mental welfare. For example, physical observations include meals and fluid intake and blood pressure and glucose readings. The app also gives carers a chance to flag concerns about mental wellbeing, such as a reluctance to get up and out of bed, meaning that clients' overall health can be monitored effectively. The latest development in CareLineLive's software empower carers to take photos to log potential issues, as well as provide home care agencies with the ability to record any incidents using the correct procedures, giving other stakeholders more comprehensive information about any concerns reported.
These improvements allow everyone involved in the homecare space to be better informed and connected, giving greater visibility on individual service user needs and enabling personalised care. Agencies and carers that decide to go digital can gain improved insights from the data, allowing them to foresee potential problems before they arise.
Widening the Care Circle
By extending the Care Circle to external stakeholders, such as community health care workers and emergency services, CareLineLive's technology will provide greater visibility on individual client needs. For example, a QR code will be made available to emergency services in a client's home, so that they can instantly see important details, on a one-off basis, including clients' medication and other care details, empowering quick and efficient treatment.
Too often, clients receiving care at home are hospitalised for issues that could have been alleviated through earlier intervention. Our technology is changing the way care is delivered for the better, by ensuring that agencies and carers can pre-empt any potential problems and this often eases the burden on the NHS, with fewer people needing to be hospitalised in emergency circumstances.
Harnessing Cloud-hosted Software for Home Care
More and more people needing care are demanding care in their own homes, to maintain greater independence and established routines. By improving home care providers' systems, solutions such as CareLineLive are enabling this market to expand.
Cloud-based software connects millions of people across the globe, from social media to remote working solutions such as Zoom. It's now time for these technologies to do the same in the homecare sector, to meet the needs of adult social care for our increasingly elderly population.