20 Apr 2021
Write Up: How Technology Can Support Residents with Dementia in Any Care Setting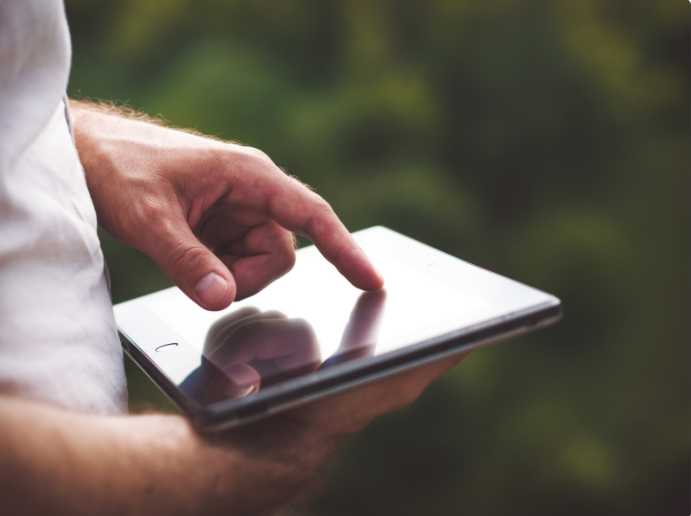 On the 9th of March, we were delighted to have Temby Nyemba, the General Manager at Leecare Solutions, talking as part of Care Virtual. Her talk "How Technology Can Support Residents with Dementia in Any Care Setting" looked at some of the technological solutions Leecare have been able to develop in order to support care home residents, particularly those who have dementia.
Temby is a qualified registered nurse and has lots of frontline experience in the care sector. She has a BSc Honors in Management in Health and Social Care, as well as a Masters in Health and Social Care. Leecare specialises in integrated technology solutions for care homes and the assisted living sector.
Leecare have identified that a "one size fits all" approach to care home technology solutions isn't going to be appropriate. Every care home has their own systems and offers slightly different services and every resident has unique needs. To overcome this problem, they've created a system which can be easily modified based on user permissions and requirements, enabling role-specific alerts to be accessed on a user dashboard and patient assessments easily obtained.
With lists and quality reports which detail infections, incidents, wounds, pain and any relevant behavioural data about the resident, it's very easy for a caregiver to simply go onto the app and source these records. It's designed to improve efficiency, which can ultimately help to improve the overall quality of care provided.
In addition to storing all the assessment data mentioned above, resident files stored in their system can also host documents, such as pathology notes, discharge letters, consents and more. With so much available digitally, this can go some way to helping care homes achieve a paperless environment.
Benefits for people living with dementia
While the systems that Leecare have created are designed for use in any care home and with any patient, they also have several special accommodations in place when it comes to providing care for residents with dementia. The programme includes various dementia specific evidence-based tools, such as:
MOCA

PAS

Mini Mental

Mini-ACE

4AT
These allow you to determine and record a resident's mental state, whenever necessary. They also give you the ability to view the results of all previous tests.
The programme is able to provide permission-based alerts, which can give unit managers an overview of all outstanding clinical issues. Additionally, the provision of an overview assessment summary makes it easy to ensure that these vital assessments are being carried out in a timely manner.
While resident files do include several default assessment fields, the programme enables managers to incorporate additional forms and fields which can further customise the level of support available to individual residents. This feature also means that nurses are able to create detailed resident-focused feedback about the resident's likes, care-needs and emotional stress triggers.
Comprehensive behavioural assessments are critical for residents with dementia. These, along with evaluation and monitoring forms, enable staff to track and record a resident's behavioural patterns and positive interventions.
For the most important details about a resident, a vital information panel on the homepage gives the user a quick view of any details marked as risky or urgent or which will require the resident to be monitored.
Additionally, users can upload photographs to the resident file. This can be handy for keeping track of their personal property, such as hearing aids, mobility aids and glasses. With memory loss issues prevalent in people with dementia, it's important to keep a clear visual record of these things.
When doing assessments of residents or noting progress, it is possible to categorise the information with 'content themes' (for example, Unsafe Behaviour) and these can then be filtered by managers at a later date to determine whether or not any adjustment to their services is necessary. With a wide range of reporting options included, important information can be made available to staff, managers and families as well as giving valuable insights for internal audits.
Professional standards of Leecare
The system offered by Leecare meets all professional standards, such as CQC/KLOE/PIR, NICE, NHS, Safeguarding, IDDSI and, of course, is compliant with all health and safety and privacy requirements. With the role-specific dashboards in place, you have complete control over who has access to all information (clinical and non-clinical), ensuring that the data is secure.
The programme also provides an assessment summary for each resident. With a wide range of reports which can be viewed or emailed from the programme whenever needed, this is an ideal way to make sure that residents are up to date with their assessments.
A medical incident analysis of all residents in your care home is available at the tip of your fingers. This feature ensures that no patient is left behind and is an efficient process with a low amount of admin required.
Professional Structure
The professional structure of the process of the programme has been made based on the nursing process. Broken down, it looks like this:
Assessment of individual goals.

Care plans automatically generated.

Data goes to the implementation tools.

The care outcome is evaluated.

The process is repeated.
This fully integrated care programme enables unlimited users, an integrated care record and an approach which encompasses the whole team. It's an adaptable system which can be used in care homes and organisations of different sizes. Below is a list of the different options that Leecare provide:
Platinum5: This software encompasses all of the care and lifestyle management requirements of aged care, community care, supported living or domiciliary care. It meets all professional care standards and enables management teams to provide sound governance.

P5Exec: Designed to support your operational management requirements, encompassing Quality Control, Human Resources, Supplier Records and more.

P5med: Enables online medication management that assists staff to achieve an error-free administration process with greatly reduced risk using seamless real-time integration of data from the resident's care profile.

P5Pharmacy: Enables easy communication between a facility and their pharmacist. Designed with simplicity in mind, it ensures constant contact between you and your pharmacist.

P5Finance: A health and social care resident billing function that connects to your residents' profile and care network. It allows for bulk billing, receipting, manually uploading fees, charting accounts, trust account management and includes a petty cash function.
Advanced app technology for point of care and at home
The majority of the programmes created by Leecare are also available to access via apps on tablets and other mobile devices. The P5 Mobile app has an auto-display function for its forms. It displays the forms in a programme, following the default configuration created by Leecare or modified based on the client's needs. It incorporates information such as progress notes, weights and vital signs, care plans, wounds, infections, maintenance issues, comments and complaints, and risks and hazards.
Meanwhile, the P5 MyCarePlan app is synced in real-time to the organisation's comprehensive clinical care and lifestyle software, providing staff, residents and families direct access to the same information. This is particularly helpful during times of pandemics and lockdowns as staff, residents and families are all able to engage remotely and advise on care decisions. They can review a care plan together, provide feedback and even send photos.
With the help of a Bluetooth beacon, the P5 Insight app allows for information to be sent to staff tablets as they walk around the home or pass residents' doors. This provides staff with key information before they speak or even visit the resident or client. With the beacon affixed just above the resident's door (or somewhere else near it) staff will be able to obtain critical information before visiting residents. The information that appears is that which has been entered into the Platinum 5 programme. This is completely secure and the data can only be obtained with somebody with all the right permissions.
After giving this overview of the programmes available from Leecare, Temby brought her webinar to a close by emphasising that these platforms are designed with user convenience in mind. They're flexible and able to interface with other systems without the use of any special equipment. Technology is always improving and systems like these will be essential as the quality of care provided throughout the country continues to improve.
Temby Nyemba was just one of many expert speakers who hosted sessions at Care Virtual, all of them discussing different technologies and innovation which are helping to improve care services. During her webinar, she displayed various graphics and images to give an idea of what it's like to use these platforms. Watch it on demand now, along with our other sessions.