24 Apr 2020
'Your efforts have not gone unnoticed' - From Dr Melrose Stewart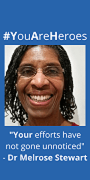 Knowing that when you enter into a profession you are going to face significant risks is very different to entering a profession, and then being called upon to take unprecedented risks. This is why today, I am applauding all of my fellow Allied Health Professionals and other healthcare professionals dedicated to combating COVID 19-Coronavirus pandemic in all areas of health and social care.
When we are being told to socially distance ourselves from one another, health care practitioners are having stay closely connected to give the care and attention to sick, vulnerable and rehabilitating individuals. We are asking them to step out and walk into unchartered territories. They are putting their own physical and mental health and wellbeing on the line.
Amidst all of this mayhem, I say to all of my fellow healthcare professionals, take a little time to wrap yourselves in the spring sunshine, breath the fresh air far away from the confines of your workplace, enjoy a virtual call to friends and use social media or similar to share some of those lighter moments in life that give you real pleasure because #YouAreHeroes of today.
Dr Melrose Stewart MBE